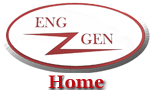 Mission Statement
The Russell Energy Corporation strives to provide the benefits and security of electrical power to all people in the most dependable, affordable and environmentally considerate manner possible.
We are dedicated to product quality and an earned reputation for integrity.
REC's business strategy involves developing Strategic Alliances, Joint Ventures and other lasting relationships to secure the components and competencies required to successfully commercialize the Eng/Gen technology in all its varied sizes and applications.
REC's also plans to commercialize world class power generation systems that will utilize the Eng/Gen technology. Systems will be designed to meet individual customer requirements and applications whether large or small. Examples would include systems designed for stores, hospitals, industrial applications, ships at sea or utility companies that support the power grid.
In all cases REC will demand the highest quality of design, engineering, materials, manufacturing excellence, quality control, parts interchangeability and compatibility. Provisions for system expandability and functionality will be tailored to the end-users requirements.
Constant attention to price, dependability and durability will be the norm with a distribution and service network tailored to the customers' needs and service requirements. From design through to start-up, warranty issues or maintenance REC will be there.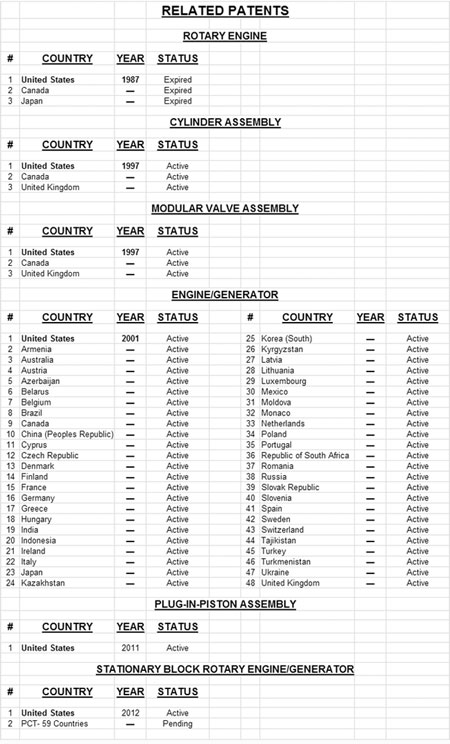 Inventor of the :
Russell Rotary Engine (U.S. # 4,653,438)
Russell Cylinder Assembly (U.S. # 5,636,599)
Russell Modular Valve Assembly (U.S. # 5,701,930)
Russell Engine/Generator (U.S. # 6,230,670)
Russell Plug-In-Piston Assembly (U.S. # 7,984,702)
Russell Stationary Block Rotary Engine/Generator (U.S. # 8,113,165)
The above patents and pending foreign patents are all relative to the current Engine/Generator technology and solely owned by REC along with all related foreign patents. Russell designed, built and tested the original Rotary Engine which formed the groundwork for the development of the revolutionary Engine/Generator. In the course of the development of the Engine/Generator technology, he commissioned and participated in the following related reports.
Assessment of the Russell Rotary Engine, Southwest Research Institute (SwRI)
Design Study for the Russell Rotary Engine, SwRI
Technical Report-Russell Rotary Engine, Ricardo Inc.
Bob Russell is a Journeyman Tool & Die Maker, a co-founder and Vice-President of Power Brake Dies Inc. (retired) established in 1973. This company is a leading and highly innovative press brake tooling design and manufacturing facility in the U.S. and has developed, produced and marketed specialized sheet metal and plate forming tools for industry throughout the U.S. His responsibilities included plant layout, machine procurement, the design of specialty tooling, the machinery and the cutting tools necessary for production, and he was also responsible for the overall manufacturing process. He has designed and built specialty machinery, fixtures and the systems necessary for full-scale commercial production. Several of his proprietary product designs for Power Brake Dies Inc. have been patented and successfully manufactured and marketed.
LinkedIn Profile
He was the former Director of the Information Services Division for the Chicago Police Department (Retired). Over twenty-five years of singular experience in Information Technology and investigative analysis both as a manager and practitioner. Received national recognition for the innovative conception and design of police information tools, development strategies and Police/IT management. Directly led and managed the Chicago Police Department's IT infrastructure and software development with a staff of 150 diverse employees, vendors and contractors servicing a client base of 36,000 internal and external police personnel with an annual budget of 14 million dollars
He has been a member of the Project Management Institute since 2003.
Currently a member of the Information Architecture Institute.
LinkedIn Profile